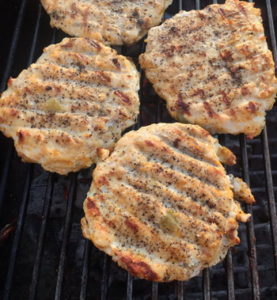 Super Simple Burger Recipe with great flavor.
2 lbs Ground Chicken (can also use Ground Turkey
1 Can Chopped Green Chiles (Hatch preferred
1 Cup Shredded Cheddar Cheese (or substitute your favorite
2 tbs Fired-Up Chipotle Hot Sauce◦ Salt and Pepper to Taste
For an extra kick, baste on more Fired-Up Chipotle Hot Sauce while they are on the grill! Mix all ingredients in a bowl and pat out into burgers. Makes 6-8 Burgers depending on your preferred patty size.
Tips: Working with ground Chicken can be a pain. Wet your hands before patting the burgers out. Also, putting patties on parchment paper or non-stick foil makes them easier to transfer to the grill.