Fired-Up Chipotle Compound Butter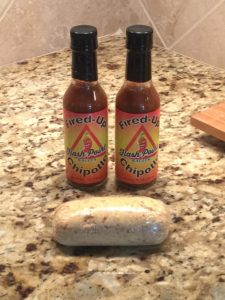 8 – Tbs softened butter
2 – Tbs Fired-Up Chipotle Hot Sauce
1 – Tbs Minced Garlic
1-1/2 – Tbs Brown Sugar
Mix all ingredients well.
The Butter can be used as is or you can create a log by placing the Butter onto sheet of plastic wrap and rolling into a log and twisting the ends. Place in refrigerator for at least an hour.
Uses:
Some of our favorites include Quesadillas, Grilled Cheese Sandwiches, Steak or Burger topping, Baked Potatoes. Pretty much anywhere you would use regular butter.