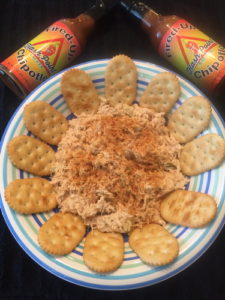 Fired-Up Chicken Salad
Ingredients
2 Cups Cooked Chicken, Shredded

4 Tb Dill Pickle Cubes

4 Tb Mayo

3 Tsp Fired-Up Chipotle Hot Sauce

Salt & Pepper (to taste)

Instructions
1. Mix all ingredients and give it a taste. Need more heat, add more Fired-Up Chipotle.
Variations

Need it fast? Use Rotisserie Chicken or canned chicken.

Don't like Dill

Pickles? Use Sweet P

ickles or diced P

ickled Jalapenos

.

 

Wa

nt to make it a little lighter? Use Light Mayo or Mayo with Olive Oil.